Regular Hours:
10:00 am to 4:00 pm, Tuesday through Sunday
Open Holidays:
New Years Day, Dr. Martin Luther King Jr. Day, Presidents' Day, Patriots' Day, Memorial Day, Juneteenth, July 4th, Labor Day and Indigenous Peoples' Day.
Closed Holidays:
Easter Sunday, Thanksgiving Day, Christmas Eve and Christmas Day.
Family Trees Hours and Pricing:
Family Trees is open Tuesday to Sunday through January 1 (Closed November 23, December 24, and December 25).
Hours are 10:00 am to 4:00 pm Tuesday to Friday and 10:00 am to 5:00 pm Saturday and Sunday.
Family Trees is a fundraiser for the Museum's education initiatives.  Admission to Family Trees is $18 adults; $15 seniors & students; $10 Youth (6-17); $8 Children (3-5); Free for Children (2 and under). Free for Members.
General Admission
Members
Free
Adults
$15
Seniors/Students
$12
Youth (6-17)
$8
Children (5 & under)
Free
Active Military
Free
EBT/WIC/ConnectorCare card (up to 4 people)
$2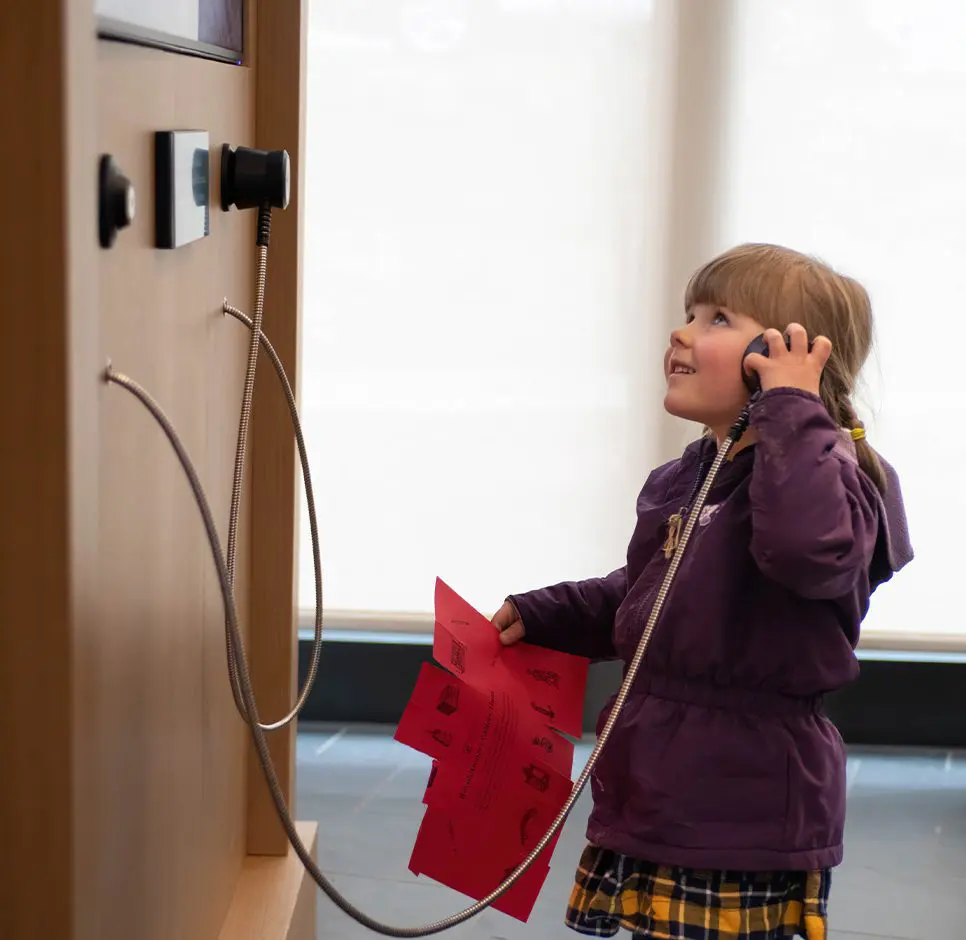 Driving
The address for GPS is 53 Cambridge Turnpike, Concord, MA 01742.
Parking
Parking is free at the Museum's adjacent parking lot and on the street.
Public Transportation
From Boston
From North Station, take the outbound Fitchburg commuter rail to Concord station. From Cambridge, take the Red Line train to the Porter Square stop. At Porter Square, take the outbound Fitchburg commuter rail to Concord station. The Concord Museum is a 1 mile walk from the Concord station.
From West
Take the inbound Fitchburg commuter rail to Concord station. The Concord Museum is a 1 mile walk from the Concord station.
How long does it take to tour the Museum?

It takes 1-2 hours to explore our sixteen galleries and visit our current Special Exhibition.

Do I need to purchase tickets in advance to tour the Museum?

Visitors may purchase tickets any time during Museum open hours without making reservations. If you have a group of 8 or more, take advantage of our Group Visit options.

Is the Museum wheelchair accessible?

All of the facilities are wheelchair accessible. A wheelchair is available for use free of charge on a first-come, first-served basis. There are also designated handicapped parking spaces.

Am I able to leave the Museum and return later that same day?

Yes. Your admission is valid until the Museum closes and will allow you to return to the Museum any time on that same day.

Is the Museum appropriate for young children?

The Concord Museum welcomes young children of all ages. Interactive stations, scavenger hunts, and close looking prompts, encourage children to experience the thrill of discovery as they move through the galleries. Strollers are allowed in all of our galleries.

Does the Museum have parking?

Parking is available in the lot next to the Museum and on the road in front of the Museum. All parking is free.

Does the Museum have a shop?

Yes.  We have an assortment of Concord souvenirs, books, local crafts and gifts in our shop near the Museum entrance.

Does the Museum have a library pass program?

Yes. Library passes admit up to four people to the Museum for $5 off each during regular Museum hours. Reserve a pass from your local library.

What else is there to see in Concord?

The Museum is the perfect place to start your visit to Concord. Visit our sixteen galleries to understand Concord's indigenous, revolutionary, abolitionist and literary history, then head out to explore other sites that interest you in this remarkable town. For inspiration, visit https://visitconcord.org/.
The Concord Museum is dedicated to providing a safe and harassment-free experience for everyone. The Concord Museum does not tolerate any form of discrimination or harassment, including but not limited to sexual harassment. The Museum prohibits discrimination or harassment based on ability, age, color, ethnicity, race, family or marital status, sex, gender identity and expression, sexual orientation, pregnancy and related medical conditions, language, national origin, political affiliation, religion, socioeconomic status, veteran status, health status, and other dimensions of diversity.  Read more about the Museum's commitment to diversity, equity, access, and inclusion here.
To ensure that everyone has a positive experience, we kindly ask that you follow the guidelines below:
The following are required:
Please follow the directions given by Concord Museum staff
Do keep a safe distance of one foot away from all objects and please do not touch the collections
Children 12 and under must be accompanied by an adult
All bags are subject to inspection by Museum staff; bags and backpacks larger than 11×17 inches will be placed in lockers at the entrance
Shirts and shoes must be worn
The following are welcomed and encouraged:
Strollers, unless otherwise noted in specific exhibitions
Service animals
Photos and videos, but please no flash photography or selfie-sticks, tripods, monopods, or photography lighting equipment
Sketching and notetaking with pencils in the galleries
Visitors are encouraged to touch and explore at the interactive stations throughout the galleries
Please refrain from:
Discrimination or harassment of any kind
Possession of explosives, firearms, knives, weapons, and noxious gases or substances of any kind; law enforcement personnel and certain preapproved visitors are exempt from this policy
Possession or use of alcohol or illegal drugs on Museum property
Smoking or vaping of any kind on Museum property
Eating or drinking in Museum galleries
Creating a disturbance, protesting, running, yelling, playing audible music devices, or using drones on Museum property
Bikes, roller skates, skateboards, wagons, sporting equipment, and scooters on Museum property
Soliciting, posting, or distributing any sign, notice, ad, or print material on Museum property
Entering any non-public area without authorization